Hits: 24
Reprint from Nice News.
| | | |
| --- | --- | --- |
| Wednesday • July 20, 2022 | | |
It's easy to get caught up in all that's going on in the world, so we wanted to take a moment to highlight some positive strides that humanity has made. According to insights from Our World in Data, well-being indicators like child mortality, famine, and poverty are at all-time lows while life expectancy has significantly increased. "Major progress has also been made on increasing access to clean water and sanitation, reducing malaria, tuberculosis, polio and the spread of HIV/AIDS," according to the United Nations. And natural disasters are getting less deadly, even in the face of global warming. Learn more about how the world may be doing better than you thought here.

Were you forwarded this email? Sign up here.
plasticsteak1 / iStock
Nearly 60,000 Beluga Whales Are Migrating: Watch Them on Livestream
Known as the canaries of the sea, beluga whales are famous for their white coloring and vocalizations. While these social and playful sea creatures spend much of the year in the Arctic Ocean, they embark on a mass migration each summer to Hudson Bay in northeastern Canada to feed, molt, and give birth to calves in the shallow waters. Approximately 57,000 belugas have officially begun the journey and Polar Bears International (PBI) has partnered with Explore.org to record every second on live webcams.

PBI's beluga boat, Delphi, was outfitted with one camera on deck to film the water's surface while another camera records the whales underwater, giving viewers an up-close look at the mass migration. The livestream officially started on Friday to coincide with Arctic Sea Ice Day to raise awareness of melting polar ice caused by climate change. In addition to providing animal lovers with a rare spectacle, the cameras are also meant to help viewers form a deeper connection with the Arctic and take action to save it.

PeopleImages / iStock
30-Minute Class Can Lower Anxiety Levels in Teens, Study Finds
More than 30% of young adults aged 18-25 live with a mental illness in the United States, and psychologists are hopeful of reducing that statistic. According to a new study, involving more than 4,000 secondary school students and university undergraduates, the research found that a single 30-minute online training session could improve teenagers' stress response. The approach, which was aimed at encouraging a growth mindset with stress and interpreting the body's reaction to it as a positive, is linked to academic improvement and lower anxiety levels.

The class is the latest among intervention strategies, such as social support, therapy, and relaxation techniques, proven to improve mental health among teens. This particular intervention had a lasting effect on academic achievement nine months later, with students being 14% more likely to pass their courses at the end of the school year. "We're trying to change teenagers' beliefs about stressful situations and their responses to stressful situations," Dr. David Yeager, a psychologist at the University of Texas at Austin and study author, told The Guardian. "We're trying to get teenagers to realize that when you're doing something hard and your body starts to feel stressed, that could be a good thing."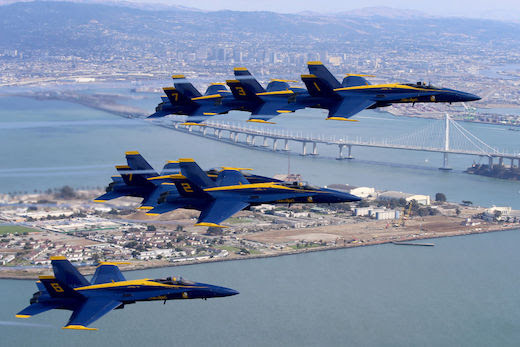 MediaNews Group / The Mercury News via Getty Images

The Navy's Blue Angels Selects Its First Female Jet Demonstration Pilot

Lt. Amanda Lee is making history in the sky. The U.S. Navy's Blue Angels has welcomed her to its flight demonstration squadron, making Lee the first female fighter jet demonstration pilot to ever join the aerial acrobatics team in its 76-year history. She is expected to begin performing as a F/A-18E/F demonstration pilot early next year after she completes a five-month training with the other new recruits, who were announced this week.

Since it was formed in 1946, the famous Blue Angels have performed aerial displays at air shows and sporting events. Lee is currently on a flight demonstration team, Strike Fighter Squadron 106, and is stationed at Virginia's Naval Air Station Oceana. Three years ago, she participated in the first all-female flyover in honor of one of the Navy's first female pilots. Lee, who follows in the footsteps of hundreds of women who have served with the Blue Angels over the past decades, said in 2019: "When I come into the ready room right now, I'm a pilot first, a person second, and my gender really isn't an issue."
Sponsored by Apollo Neuroscience, Inc
Stress Less and Sleep Better With the Apollo Wearable

Do you want to calm your body and clear your mind? We at Nice News always want you to feel and perform at your greatest, and that's why we recommend the Apollo™️ wearable. Designed to restore balance to the nervous system, the stylish device trains your body to manage stress better and enjoy more restful sleep each night.

By selecting from different modes — like sleep, relax, focus, and recovery — you can take control over how you'd like to feel. In clinical trials and real-world studies, Apollo users reported reduced feelings of stress and anxiety, improved focus and concentration, faster physical recovery, and deeper sleep. Plus, it's easy to use, unobtrusive, and can be worn on your wrist and ankle.

A clear mind begins with a calm body. Get your Apollo™️ wearable for 10% off today.
| | |
| --- | --- |
| In Other News | |

| | | |
| --- | --- | --- |
| | | Researchers have developed a new method to diagnose Parkinson's disease in its early stages using quantitative MRI. |

| | | |
| --- | --- | --- |
| | | An Indiana man is being hailed a hero after risking his life to save five children from a burning home. |

| | | |
| --- | --- | --- |
| | | The first underwater archaeological park opened in Cyprus, allowing visitors to explore one of the best preserved ancient harbors in the eastern Mediterranean. |

| | | |
| --- | --- | --- |
| | | Nearly 25 years after Princess Diana's death, Prince Harry reflected on the iconic photo of his mother meeting Nelson Mandela. "What jumped out was the joy on [her] face," Harry said. |
@allysonfelix
The most decorated track star has run her final championship race. Allyson Felix, who won 11 Olympic medals and 19 world championship medals throughout the course of her career, helped the U.S. secure the bronze in the mixed 4x400m relay final at the 2022 World Athletics Championships on Friday. As she readies for her next chapter, there's no one Felix hopes to inspire more than her 3-year-old daughter Camryn. Felix, who will officially retire from running in August, said: "I'm definitely going to be telling her about the journey that I've been on and really just how to overcome adversity and how to stand up for what you believe in." (Photo Credit: Steph Chambers / Getty Images)
| | |
| --- | --- |
| Quote of the Day | |

"The foolish man seeks happiness in the distance; The wise grows it under his feet."
– James Oppenheim
91